I'm sure I must have thoughts which don't become songs ...  but ...
I've recently got round to reading the Neil Young biography Shakey by Jimmy McDonough
In which the song Maybe by the Chantels gets mentioned.

Now a long time back I'd had an idea for a doo wop style tune also called Maybe
  I had scrawled a couple of lines on the back of another song in one of my folders
which I returned to a few months ago and finished with authentic middle 8 and moody girl group style lyrics, the whole thing,
I remember thinking yeah this'll make a great track for me to sing..then I put in the Back Burner file (yeah that's what it's called)
and went on to another idea.
So when I read of the Chantels/Maybe in the Shakey book I felt a strong dose of Deja vu and I thought hang on you dope
better check this Chantel's track out ....
and yeah you guessed it ... exactly the same .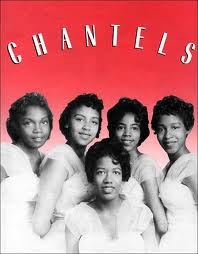 Ah.... Now I remember I'd heard the song, tried to work out the chords ..wrote the title and the 1st verse down, and forgot about it
so when i returned to it a year or so later I had no idea where it had come from, only the vague idea of it being in a doo wop style,
funny thing is the lyrics I made up myself and the middle 8 chords are almost the same as the Chantels.

So Thanks to the Neil Young biog ...for saving any future embarrassment I might encounter when trying to pass the song off as one of mine
Don't tell anyone will you?